Product Summary
The TPS3823-33DBVR supervisor provides circuit initialization and timing supervision, primarily for DSP and processor-based systems. During power-on, RESET is asserted when supply voltage VDD becomes higher than 1.1 V. Thereafter, the supply voltage supervisor monitors VDD and keeps RESET active as long as VDD remains below the threshold voltage VIT–. An internal timer delays the return of the output to the inactive state (high) to ensure proper system reset. The delay time of TPS3823-33DBVR, td, starts after VDD has risen above the threshold voltage VIT–. When the supply voltage drops below the threshold voltage VIT–, the output becomes active (low) again. No external components are required. The TPS3823-33DBVR has a fixed-sense threshold voltage VIT– set by an internal voltage divider.
Parametrics
TPS3823-33DBVR absolute maximum ratings: (1)Supply voltage, VDD (see Note 1) :6 V; (2)RESET, RESET, MR, WDI (see Note 1):–0.3 V to (VDD + 0.3 V); (3)Maximum low output current, IOL: 5 mA; (4)Maximum high output current, IOH:–5 mA; (5)Input clamp current range, IIK (VI< 0 or VI> VDD) :±10 mA; (6)Output clamp current range, IOK (VO < 0 or VO > VDD):±10mA; (7)Continuous total power dissipation:See Dissipation RatingTable; (8)Operating free-air temperature range, TA:–40℃ to 85℃; (9)Storage temperature range, Tstg : –65℃ to 150℃; (10)Soldering temperature:260℃.
Features
TPS3823-33DBVR features: (1)Power-On Reset Generator With Fixed Delay Time of 200 ms (TPS3823/4/5/8) ; (2)Manual Reset Input (TPS3820/3/5/8); (3)Reset Output Available in Active-Low (TPS3820/3/4/5), Active-High (TPS3824) and Open-Drain (TPS3828); (5)Supply Voltage Supervision Range 2.5 V, 3 V, 3.3 V, 5 V; (6)Watchdog Timer (TPS3820/3/4/8); (7)Supply Current of 15 μA (Typ); (8)SOT23-5 Package; (9)Temperature Range: –40℃ to 85℃.

Diagrams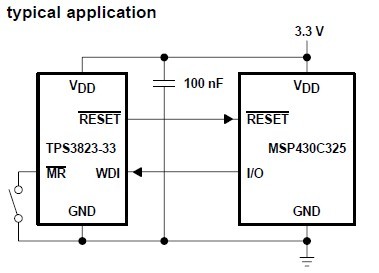 Image
Part No
Mfg
Description
Pricing
(USD)
Quantity

TPS3823-33DBVR

Texas Instruments

Supervisory Circuits 2.93V Monitor

Data Sheet



| | |
| --- | --- |
| 0-1: | $0.88 |
| 1-25: | $0.70 |
| 25-100: | $0.61 |
| 100-250: | $0.54 |


TPS3823-33DBVRG4

Texas Instruments

Supervisory Circuits Supply Voltage Supervisor

Data Sheet



| | |
| --- | --- |
| 0-1: | $0.86 |
| 1-25: | $0.70 |
| 25-100: | $0.63 |
| 100-250: | $0.55 |