Product Summary
The DS1302Z trickle-charge time keeping chip contains a real-time clock / calendar and 31 bytes of static RAM. It communicates with a microprocessor via a simple serial interface.
Parametrics
DS1302Z absolute maximum ratings: (1)Voltage Range on Any Pin Relative to Ground:-0.5Vto +7.0V ; (2)Operating Temperature Range, Commercial:0℃ to +70℃ ; (3)Operating Temperature Range, Industrial (IND):-40℃ to +85℃; (4)Storage Temperature Range:-55℃ to +125℃ ; (5)Soldering Temperature (leads, 10 seconds):260℃; (6)Soldering Temperature (surface mount):See IPC/JEDEC J-STD-020.
Features
DS1302Z features: (1)Real-Time Clock Counts Seconds, Minutes, Hours, Date of the Month, Month, Day of the Week, and Year with Leap-Year Compensation Valid Up to 2100 ; (2)31 x 8 RAM for Scratchpad Data Storage ; (3)Serial I/O for Minimum Pin Count ; (4)2.0V to 5.5V Full Operation ; (5)Uses Less than 300nA at 2.0V ; (6)Single-Byte or Multiple-Byte (Burst Mode) Data Transfer for Read or Write of Clock or RAM Data ; (7)8-Pin DIP or Optional 8-Pin SO for Surface Mount ; (8)Simple 3-Wire Interface ; (9)TTL-Compatible (VCC = 5V) ; (10)Optional Industrial Temperature Range: -40℃ to +85℃ ; (11)DS1202 Compatible ; (12)Underwriters Laboratory (UL) Recognized.

Diagrams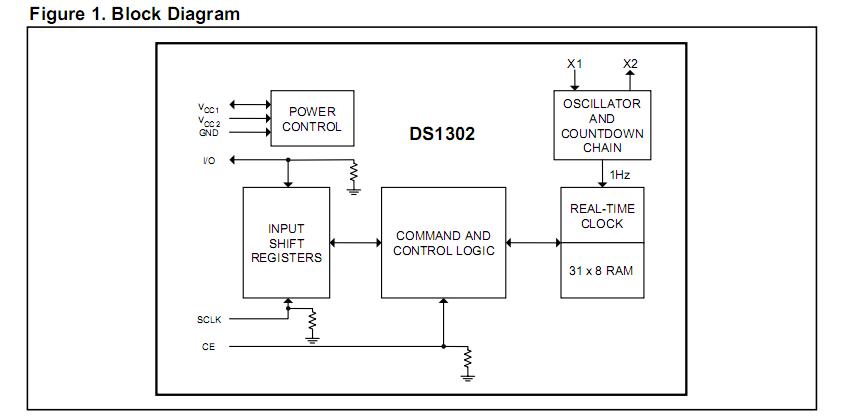 Image
Part No
Mfg
Description
Pricing
(USD)
Quantity

DS1302

Maxim Integrated Products

Real Time Clock Trickle-Charge Timekeeping Chip

Data Sheet



DS1302+

Maxim Integrated Products

Real Time Clock Trickle-Charge Timekeeping Chip

Data Sheet



| | |
| --- | --- |
| 0-1: | $2.23 |
| 1-25: | $1.50 |
| 25-50: | $1.09 |
| 50-100: | $1.07 |


DS1302N

Maxim Integrated Products

Real Time Clock Trickle-Charge Timekeeping Chip

Data Sheet



DS1302N+

Maxim Integrated Products

Real Time Clock Trickle-Charge Timekeeping Chip

Data Sheet



| | |
| --- | --- |
| 0-1: | $2.79 |
| 1-25: | $1.87 |
| 25-50: | $1.36 |
| 50-100: | $1.34 |


DS1302S

Maxim Integrated Products

Real Time Clock Trickle-Charge Timekeeping Chip

Data Sheet



DS1302S/T&R

Maxim Integrated Products

Real Time Clock Trickle-Charge Timekeeping Chip

Data Sheet



| | |
| --- | --- |
| 0-2000: | $1.03 |
| 2000-7210: | $1.03 |


DS1302S+

Maxim Integrated Products

Real Time Clock Trickle-Charge Timekeeping Chip

Data Sheet



| | |
| --- | --- |
| 0-1: | $2.23 |
| 1-25: | $1.50 |
| 25-50: | $1.09 |
| 50-100: | $1.07 |


DS1302S+T&R

Maxim Integrated Products

Real Time Clock Trickle-Charge Timekeeping Chip

Data Sheet



| | |
| --- | --- |
| 0-1530: | $0.89 |
| 1530-2000: | $0.87 |